The Association was founded in 1996 by Mr Richard Broad, Mrs Medwin Broad (deceased) & Miss Jayne Vowles (retired 1999).
Our aim has always been to put the fun back into showing and provide exhibitors with a Championship Show suitable for all levels of showing, and that cater for all types of equines and competitors.
Our first Championship Show was held at The Hand Equestrian Centre in September 1997. Held on just one day, and it's fair to say we overran by a considerable amount, with some of our Ridden classes starting around midnight. In the following years we expanded to a two day show, but we had outgrown the facilities available to us at the centre.
Our continuing success meant that in 2002 we had to move our Championship Show to a larger venue, and relocated to The David Broome Event Centre at Crick, Monmouthshire. Since then the show has grown from a two day to a three day show with over 500 classes, and three 'Evening Performances'.
Over the years we have introduced many new competitions, and now have classes for showing, dressage, arena eventing, working hunter & show jumping. COVID meant that we were unable to run our 2020 Championship Show, but this gave us time to revise the timetable to include many more disciplines in readiness for 2021.
In April 2020 we lost our inspirational leader Medwin Broad to cancer, but as a family we were determined to keep her legacy going, although in a slightly different direction as Medwin had previously discussed with the family. So while COVID stopped us all showing we put in place Medwin's action plan, which was was to cease running unprofitable 'one day' shows and concentrate all efforts on our Championship Show and give more support to our affiliated shows.
Finally being given the greenlight by the government to start organising shows again, we put together a Memorial Championship in memory of Medwin for 2021 which included some very special commemorative sashes. The show was a great success and Medwin would have been so proud.
2022 will be our 25th Anniversary, and again we will have commemorative sashes, with many other exciting awards. We will also re-introduce the Supreme In-Hand & Supreme Ridden competitions that we couldn't run last year, however the qualifiers will be given to our Affiliated Shows as Medwin had requested.
As before our 'Evening Performance' classes on Thursday, Friday & Saturday are the stage for all the major championships and finals,  but also include many 'fun type' classes including, Adult & Child Ridden, Concours d'Elegance, Ridden Pairs etc. along with classes for Lorry Dogs and the main event on Saturday Evening, Wheel Barrow racing.
Within the Championship Show we run a full range of open classes under the Festival and 'Show within a Show' banners,
which have grown each year and have now become very popular with SWPA registered and
non registered exhibitors alike.
Another addition to 2022, will see two blocks of 'Fun Classes' on both Friday & Saturday.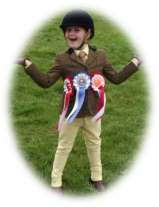 So, why not come and join an Association which aims to bring the 'FUN' back into Showing.
Please follow the links to find out more about South West Pony Association.